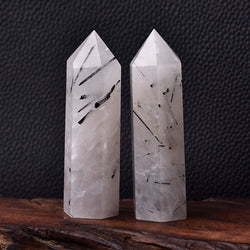 REPELS NEGATIVE ENERGY - PROTECTION - GROUNDING


This stone is the be-all and say-all of all protection stones. If your bad vibes were a swarm of mosquitos around you sucking your blood and draining your energy, this stone is like a giant can of bug spray! 


Place this powerful stone near your doors or entry points to your sacred spaces to act as a barrier for bad energy and keep it from entering your safe spaces. 
Feeling negative yourself? Put it in your pocket, in your purse, or on your desk and watch as this powerful point elevates your entire being. This stone is a GAME-CHANGER!
Gorgeous
Absolutely love it and will be buying more just perfect
Gorgeous!
Even more beautiful in person! I love them all! I can't wait to incorporate them into my spiritual journey!
Love all if them
I was very impressed with the quality of crystal I received! Beautiful! Definitely be ordering again :)
Perfect! 😍
I knew it was going to be beautiful, but when I got it, it was even prettier than the pictures! Definitely worth it!