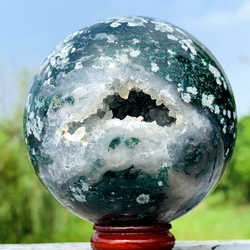 GROUNDING - HEALING - GROWTH
This beautiful crystal sphere, made from the grounding and nourishing moss agate, is the perfect tool for spiritual and energetic healing. Its earthy green color is a symbol of growth, renewal, and stability, and the natural energy of moss agate is said to enhance intuition and connect one with the earth.
Moss agate is known for its ability to promote physical and emotional healing, making it an ideal tool for those looking to balance their energy and bring harmony to their lives. It is said to help release negative thoughts and emotions, increase self-confidence and self-esteem, and bring abundance and prosperity. Moss agate is also known to stimulate the growth of new ideas, making it a valuable tool for anyone looking to bring fresh perspectives to their life.
In addition to its spiritual properties, moss agate is said to balance the heart chakra, enhance concentration and perception, and promote physical well-being. Whether you use it for personal growth or to elevate your spiritual practice, this moss agate sphere is a true treasure to be cherished for years to come.
Size: 400-450 Grams