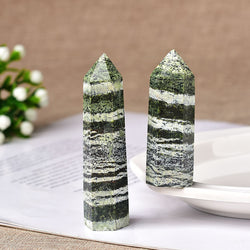 MOTIVATION - INSPIRATION - COURAGE
Green Zebra Jasper is the stone of determination, motivation and facing challenges. It recharges your energetic 'battery' and pushes you to accomplish your goals.
This potent stone lends emotional support and strengthens self-control, as well as boosting physical energy levels. It's slow, steady vibration helps avoid extremes and encourages perseverance. Like they say, slow and steady wins the race!
This stone's powers are especially helpful in the work environment - you will discover greater insight in dealing with working relationships and will find the energy and motivation you need to get your projects done.
The gem did not have this gorgeous color and looks almost black. Very disappointing.
Much smaller than I expected and hardly any blue flash
Much smaller than I expected
Gorgeous
Absolutely love it and will be buying more just perfect
Gorgeous!
Even more beautiful in person! I love them all! I can't wait to incorporate them into my spiritual journey!