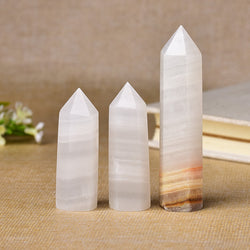 INDEPENDENCE - PROTECTION - CONFIDENCE
Serpentine (also called Afghanistan Jade) means "stone snake" and is one of the most powerful healing stones in existence. Ancient healers used to use Serpentine crystal stone as an antidote for deadly snakebites.
In crystal healing, the Serpentine crystal is used to create an energetic shield around the body and align one's Heart Chakra with Source energy. Purify your energy and ward off negativity with the ancient power of Serpentine. 

Serpentine is the perfect addition to a novice or experienced healer's kit!
Gorgeous
Absolutely love it and will be buying more just perfect
Gorgeous!
Even more beautiful in person! I love them all! I can't wait to incorporate them into my spiritual journey!
Love all if them
I was very impressed with the quality of crystal I received! Beautiful! Definitely be ordering again :)
Perfect! 😍
I knew it was going to be beautiful, but when I got it, it was even prettier than the pictures! Definitely worth it!