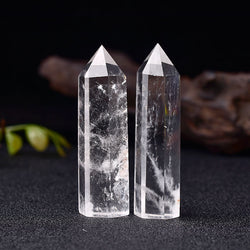 AWARENESS - AMPLIFICATION - CLARITY
Named after Greek word for ice, this glacial stone is considered to be the "Master Healer." Clear Quartz is an abundant mineral found in many far-flung corners of the earth, from the shores of Madagascar to Arkansas to Brazil. It has a knack for absorbing, storing, and releasing positive energy as needed – key for maintaining your sense of balance.
Clear Quartz is one of the purest stones in the quartz family and is considered to be the light bringer. As an amplifying stone, it absorbs energy and then releases it tenfold - charging it with positivity is key. Its reflective properties have been known to spark memories, aid in concentration, and restore balance. 
Gorgeous
Absolutely love it and will be buying more just perfect
Gorgeous!
Even more beautiful in person! I love them all! I can't wait to incorporate them into my spiritual journey!
Love all if them
I was very impressed with the quality of crystal I received! Beautiful! Definitely be ordering again :)
Perfect! 😍
I knew it was going to be beautiful, but when I got it, it was even prettier than the pictures! Definitely worth it!