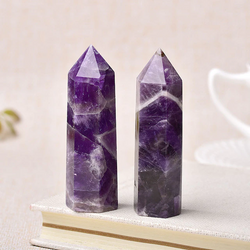 CALM - PATIENCE - MANIFESTATION

Known as "Nature's Balancer," Amethyst calms the mind, relieves stress, and brings clarity. A natural tranquilizer, Amethyst is known for its stress-relieving properties and is a potent gem for rebalancing and harmonizing the body, mind, and spirit. Amethyst soothes toxic energy, irritability, mood swings, and fear. An excellent stone for inviting harmony and clearing negativity from your home.  


Amethyst is a very high-vibrational crystal with multifaceted benefits. It's known for its wonderful benefits of dreamwork, meditation, and relieving addiction. As it connects to the crown chakra, Amethyst enhances spiritual and metaphysical abilities, it's an excellent stone for scrying and visualization, purifying the aura, and heightening intuition.
Sleeping with amethyst enhances the ability to have out-of-body experiences, visuals, prophetic dreams, and dream recall. A natural tranquilizer, Amethyst transmutes stress and anxiety into peaceful serenity. A stone to cope with grief and loss, deflect psychic attacks, and is incredibly beneficial in preventing addiction. Improve motivation, memory, and physical symptoms such as headaches, pain, insomnia, bruises, and any skin complaints/blemishes.
Zodiac Signs: Aquarius and Pisces
Chakras: Third Eye, Soma, Crown, Higher Crown
The gem did not have this gorgeous color and looks almost black. Very disappointing.
Much smaller than I expected and hardly any blue flash
Much smaller than I expected
Gorgeous
Absolutely love it and will be buying more just perfect
Gorgeous!
Even more beautiful in person! I love them all! I can't wait to incorporate them into my spiritual journey!