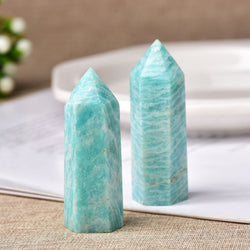 HARMONY - INTEGRITY - COMMUNICATION

This lush green
stone has unique healing properties and 
is beneficial in treating osteoporosis, tooth decay, calcium deficiency, and calcium deposits.
It calms the brain and nervous system and balances the masculine and feminine energies, helping you see all sides of a problem.
It soothes emotional trauma, alleviating worry and fear. It is also known to dispel negative energy, aggravation, and blockages within the nervous system.  Amazonite assists in manifesting universal love. It protects against electromagnetic pollution and absorbs microwaves.
The gem did not have this gorgeous color and looks almost black. Very disappointing.
Much smaller than I expected and hardly any blue flash
Much smaller than I expected
Gorgeous
Absolutely love it and will be buying more just perfect
Gorgeous!
Even more beautiful in person! I love them all! I can't wait to incorporate them into my spiritual journey!