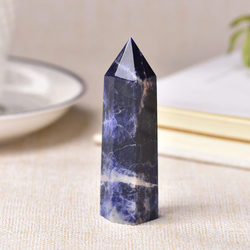 TRUTH - INTUITION - SELF ESTEEM

Do you struggle with self-esteem issues? Have a hard time making decisions?
If you can't trust yourself, you can't trust anyone. That's why Sodalite is an essential crystal in any collector's toolkit. This magical crystal helps its holder channel their intuition and deepest confidence, allowing them to trust themselves in ways they never before have. 


Sodalite boosts intuition and promotes acting logically before emotionally. Furthermore, it strengthens your self-esteem. Do yourself a favor and let Sodalite help you come out of your shell, a new day of being confidently yourself is waiting.
Gorgeous
Absolutely love it and will be buying more just perfect
Gorgeous!
Even more beautiful in person! I love them all! I can't wait to incorporate them into my spiritual journey!
Love all if them
I was very impressed with the quality of crystal I received! Beautiful! Definitely be ordering again :)
Perfect! 😍
I knew it was going to be beautiful, but when I got it, it was even prettier than the pictures! Definitely worth it!