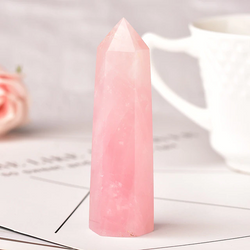 LOVE - OPTIMISM - COMPASSION

CRYSTAL : Rose Quartz
 from India
POWER : Love & Positivity
If you're looking for love, want to keep love in your life, or want another shot at love, then this stone is perfect for you: If there's anything that you want to happen in your love life, Rose Quartz can help get the wheels in motion. This stone will surround you with pure energies to attract love and romance to your aura.
Rose Quartz is a really powerful stone that can restore love and romance in your relationship. Rose Quartz is there to unlock the potential that already resides within you. It's essentially a shortcut to your inner fire – and it gives you everything you need to succeed: channel your most attractive self!
WHERE TO PLACE 💎 : At the left corner of your bedroom, on your nightstand or next to your bed

❤️✨ PLEASE READ BEFORE YOUR PURCHASE ✨ : Crystals are a natural gift from our planet. Please be aware that there could be natural cracks, rough spots or inclusions. You will always receive the crystal that was meant to be yours. You don't choose your crystal : your crystal chooses you.
The gem did not have this gorgeous color and looks almost black. Very disappointing.
Much smaller than I expected and hardly any blue flash
Much smaller than I expected
Gorgeous
Absolutely love it and will be buying more just perfect
Gorgeous!
Even more beautiful in person! I love them all! I can't wait to incorporate them into my spiritual journey!