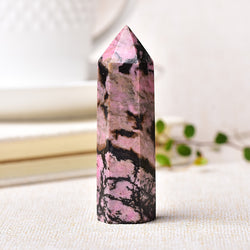 EMOTIONAL HEALING - JOY - HAPPINESS


Holding onto stagnant energy? Frustration? Fear? Let go of it all with the help of Rhodonite!


Rhodonite is a joyful stone that elevates the energy of any space it's placed in. It's used for aiding in the release of emotional baggage, making room for new happiness, healing, and love to enter our lives.


Its beautiful pink hues remind us to make those small changes that will ultimately add up to a big change in our lives and the lives of others. After all, it's the smallest changes that often have the biggest impact.

Gorgeous
Absolutely love it and will be buying more just perfect
Gorgeous!
Even more beautiful in person! I love them all! I can't wait to incorporate them into my spiritual journey!
Love all if them
I was very impressed with the quality of crystal I received! Beautiful! Definitely be ordering again :)
Perfect! 😍
I knew it was going to be beautiful, but when I got it, it was even prettier than the pictures! Definitely worth it!