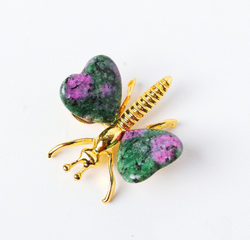 MANIFESTATION - TRANSFORMATION - ABUNDANCE
Experience the enchanting beauty of our Epidote Butterfly, a captivating blend of elegance and transformation. Hand-carved with meticulous craftsmanship, this stunning butterfly sculpture showcases the mesmerizing green hues and intricate patterns of Epidote crystal.
Epidote is known for its ability to inspire personal growth and positive change. The butterfly, symbolizing metamorphosis and new beginnings, perfectly captures the essence of this crystal. When you gaze upon the Epidote Butterfly, it serves as a powerful reminder to embrace your own journey of transformation and embrace the endless possibilities that life holds.
Beyond its symbolic meaning, this Epidote Butterfly is a delightful decorative piece. Display it in your home, office, or sacred space to infuse the surroundings with its graceful energy. Whether you're a collector, nature lover, or simply seeking personal growth, the Epidote Butterfly brings a touch of beauty, inspiration, and the transformative power of Epidote into your life.
Size: 2-3cm