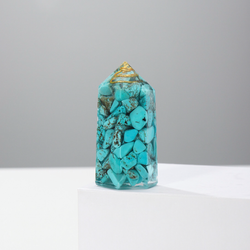 Blue Turquoise Orgone Point
SERENITY - REPELS NEGATIVITY - PEACE
TRANSFORM NEGATIVE ENERGIES into positive vibrations with the protective properties of Blue 

Turquoise

.

BALANCE YOUR CHAKRAS with the help of Blue Quartz, which 

enhances communication between lower chakras (physical) and higher chakras (mental/spiritual).

AWAKEN CREATIVITY AND EXPRESSION by releasing stress and fear.
Uniquely handcrafted for power and beauty

Each Orgone Pyramid is created by hand with the highest quality orgone crystals to ensure the most restorative powers possible. Place your orgonite pyramid anywhere near you to rebalance environmental vibrations and provide you with serenity and clarity. We charge each with positive energy so you can rest assured you'll be attracting good energy in your home or office.
 Specifications:
Blue Turquoise in Resin Pyramid
Size: 5cm (Approx.)