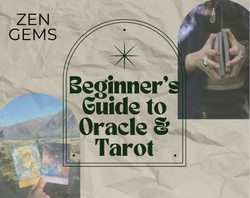 Beginner's Guide to Tarot & Oracle
🔮 Enlightenment Awaits 🔮 
Curious what Tarot and Oracle cards are all about but don't know where to start? Our Beginner's guide has the answers to all the questions you seek!
🌟 What's the difference between tarot and oracle?
🌟 How were they created?
🌟 What are tarot/oracle cards even used for?
🌟 How to read tarot/oracle cards as a way to find guidance through times of doubt or difficulty
🌟  And much, much more!!!

This guide comes FREE with any Zen Gems tarot/oracle deck - available here!
Or, you can dip your toes into the magical world of tarot by booking a tarot reading with our expert here.